Ice-Fantillusion 2007: World Celebration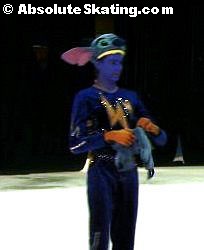 Liederkerke, May 12 & 13 2007. Kevin van der Perren and his magnificent crew from the Heuvelkouter skating club in Belgium, with help from some fantastic guest skaters, recreated the following story on ice:

One day an alien crashes on the beautiful island of Hawaii. He is captured by the locals, including a little girl who wants him for a pet. The alien looks nice and sweet, but he is really an experimental animal from outer space, designed to destroy everything that comes in his way. In his time-machine he goes from place to place on earth.
His first journey brings him into the jungle where he meets a 4,5 meter long snake. Yikes!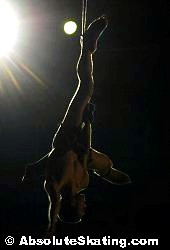 He also meets a family of apes and the mother ape shows him her son; a human son. He has a girlfriend and when the alien settles in the village, he discovers that the ape family is ruining everything in the village. By nature, the little alien is very pleased!
Then he moves to Egypt and ends up in the love story of a poor boy who's in love with a princess. The princess is supposed to marry a prince, but will she?
In the meantime there are rumours going around in space. The creators of the alien want the little creature to return and a little army of space creatures head for earth to bring him back.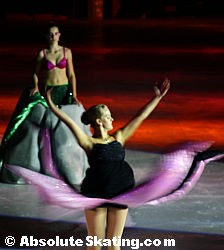 The alien has already moved on from Egypt to the underwater world where he sees the most beautiful water plants and animals and asks: Do mermaids really exist?
They do, and a little mermaid desperately wants to meet the humans on land as she's in love with a sailor. With the help of a witch, she trades her fen for legs and together with her fish-friends she tries to find her love…
Meanwhile, the army from space captures the alien. He has learned a lot on Earth, like how important family and friends are. He goes back to space, but not on his own. From every place he's visited, an earth friend comes along. The galaxy will never be the same!
And neither were the guests visiting the shows. They created a memory that will never leave their hearts.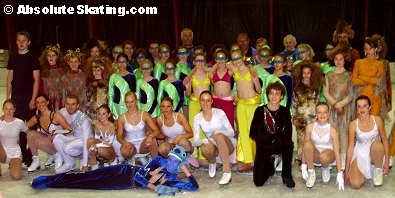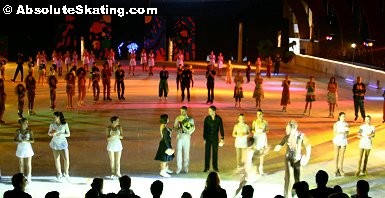 A captivating story put on ice, accompanied by great music and fantastic performances of the homeclub skaters lead by Kevin van der Perren and Jenna McCorkell, perfectly complemented by their range of guest skaters. From fellow countrymen Ruben Blommaert and Monique van der Velde with her winning Dancing on Ice partner Staf Coppens to international guests Phillipa Towler-Green & Phillip Poole, Candice Towler-Green & James Phillipson and Alex Wilde (Hasselt). It was even accompanied by a live performance by singer Wim Soetaers.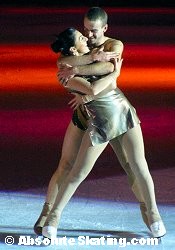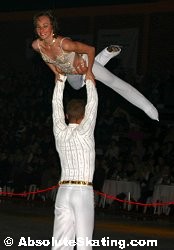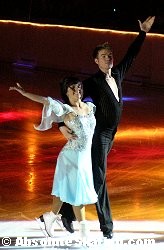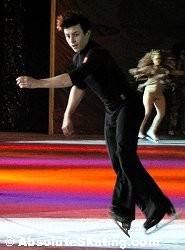 From all possible ends a very successful show!

To relive this experience, or just to see it with your own eyes, you can order a DVD with the whole show, mail Marleen de Gols for details.
Watch more pics here:
Mini report & photopage:
Kevin & Jenna, can you please stop making us cry?
Photo Album: Ice Fantillusion presents: World Celebration
Read more online about the show:
Pre-show article:
Kevin VDP's World Celebration; from Hawai to the Galaxy
Extended article:
World Celebration: Chaos behind the stage, Perfection on the ice.
- Or how Jenna lip-syncs to a green Kevin.
Article by Susanne Kempf:
A "Birthday Celebration" with British Skaters in Belgium
In Flemish:
Ice Fantillusion, de ijsshow met Kevin Van Der Perren
And watch some clips here:
World Celebration 2007: Safri Duo - Kevin van der Perren
World Celebration 2007: Space Odyssey - Smooth Criminal
World Celebration 2007 - Finale